Jaclyn and Matt
Hi Donna, Thanks so much for checking in! We had a wonderful time at our stay at the Dreams Punta Cana Resort and our wedding was better than we could ever have imagined! The wedding coordinator, Daniela, was so great and helped us with every detail. I'm not sure if the resort assigns coordinators, but you may want to suggest to other couples to ask for her by name- she's awesome. We also felt that the Dreams Resort really made us feel special as this was also our honeymoon. We received an upgraded room, couple's massage and dinner on the beach. All were amazing!! We would highly recommend the Dreams Punta Cana Resort for couples who wish to have a destination wedding at a beautiful location with staff that really pays attention to detail (I can also write this for a website review :) )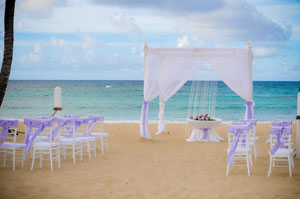 Thank you for giving the resort a heads-up about our arrival, as I think that helped with some of the upgrades. We truly appreciate it! Our whole family enjoyed their time together as well and found the resort to be very beautiful, the staff was very friendly, the pool was great and of course, the food and restaurants were fantastic! Matt and I have said several times that if we had to do it all over again we'd make the same decision to have a destination wedding at the Dreams Punta Cana. We were so very happy with the way everything turned out. Thanks so much for all your help and perhaps we'll be contacting you next year to book our anniversary trip at the Dreams. I am attaching a few pics for you to catch a glimpse of our wedding day.
Thanks again,
Jaclyn
---
Mike and Kristen Byrne
My husband and I contacted Hinsdale Travel when we were beginning the planning process of our Dec. 2013 Mexico destination wedding, and cannot say enough about the wonderful experience we had with the company, especially our AMAZING agent, Donna. I went in to meet Donna and from the second I sat with her, felt so confident that she would be a great person to work with throughout the process. When doing a destination wedding, you are not only planning your wedding day, but a vacation for your friends and family. Naturally, there are bumps along the road, and when there was, Donna was there to smooth the situation, with her response always, "No problem at all, we will work it out." The second I got on the phone with her was the second any worry went away, and "work it out," she always did. It truly made a world of difference having a person as wonderful as Donna to make this process so smooth and stress-free, and I cannot thank her enough for making our destination wedding a time we will cherish forever. Donna impressed, not only us, but our 74 guests, and has since worked with 4 of our guests on planning trips for themselves, and we are currently working with her to plan a group trip again this year as well. We highly recommend Hinsdale and Donna!
~Mike & Kristen Byrne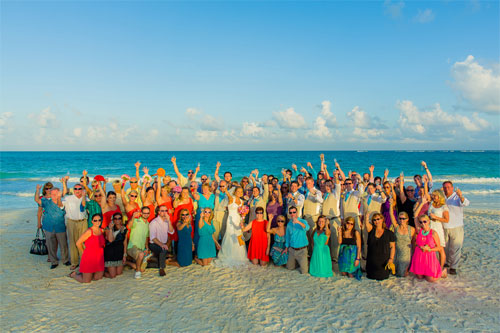 ---
Danielle and Jason

Jason and I couldn't have imagined a more perfect way to celebrate our wedding with our friends and family. We were fortunate enough to have over 50 guests attend our wedding, this is more than we could have dreamed of! We owe it all to Donna and Hinsdale Travel for working hard to find the best possible packages and deals for all our travelers.
Our accommodations were unbelievable. The palm tree lined resort with a perfect ocean view was right out of a dream. It set the awe-inspiring background for our memorable day. Our entire stay at the resort was exactly what we needed, relaxation and fun. We don't think this wonderful 10 days in paradise would have been possible without Donna and Hinsdale Travels help. Thank you for the lasting memories!
~Danielle
---
Hi Donna!
UNFORGETTABLE TRIP!!! I used Hinsdale Travel for our destination wedding cruise. The wedding had 70 guests booked through Hinsdale Travel. Donna was our travel agent and I have nothing but great things to say about her and Hinsdale Travel. She answered all my questions and made suggestions along the way based on her personal experience.
Our trip was perfect. Everything went just as planned. If I had any request, issues, or changes Donna worked it out flawlessly. She helped us with just about every aspect of our cruise. She also went out of her way to deliver coupon books to my home before we left. I would definitely recommend Hinsdale Travel!!!
~ Kelly
---
Leslie Lawrence and Shawn Molloy

Once again thanks for your follow up email!! Yes, it was an absolutely fabulous trip! Thank you so much for all of your coordination and answering of all of my questions!!!! It was absolutely great!!!
The cruise worked out nicely. Having never been on a cruise, I wasn't sure quite what to expect but people were very friendly and accommodating. As far as Carnival's wedding coordination, they did an amazing job. It was nice, all I had to do was set back and they took care of everything. Very accommodating and helpful! Probably the best person we ran into was the photographer for the wedding. VERY nice and he took some AMAZING photos!!!!!
Leslie & Shawn Zoetry, that was the absolutely PERFECT spot for a relaxing honeymoon. Quiet, low key, beautiful.Everyone was really friendly and the rooms were gorgeous!!! There was one little bit of a bummer but we spoke to the concierge and they were very quick to resolve and accommodate us. As a part of the package, we had a complementary Mayan ritual, free boat transport to shopping, and spa treatment. Well... shortly after we had gotten there we went to register for these things and they were all booked up for the duration of our stay and the boat transport was out of service until November. Kinda a bummer but like I said, we spoke to the resort and they did everything to make it up to us. They paid for a cab to shopping and got us into the spa!!! :) Very nice.
It was absolutely perfect and everything worked out beautifully!!!! :)
Thank you again. I've attached a few photos that the photographer took. I'm hoping to get my photos of Zoetry back this week!!!
~ Leslie Lawrence and Shawn Molloy